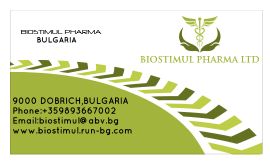 BIOSTIMULPHARMA LTD DOBRICH/BULGARIA
Innovative Technologies in Nutritional supplements and Pharmaceuticals
Our products are unsurpassed in action and safety
For me is a pleasure to introduce BIOSTIMUL PHARMA LTD.
The company was established in 2008 and has been registered in Bulgaria.
BIOSTIMUL PHARMA is a pharmaceutical firm specialised in the area of phytotherapy, natural medicine and dietary supplements.

BIOSTIMUL PHARMA is committed to developing innovative pharmaceuticals for the treatment and prevention of diseases.It is our vision to improve the health of those afflicted.Our Mission is to partner with the healthcare community to apply new scientific information and clinical data to the development of products that improve patient carein a safe and ethical manner.Our business is development, manufacture and trade in nourishing supplements and drugs.Founder and leader of the company is Mr.M.Mihaylov,who has a specialty Biotechnology and practice in the specialty – 21years.Mr.Mihaylov is a prolific inventor and is listed as an inventor on the following patents: BG1524U1/23.03.2012.These development provide pharmaceutical mass market solutions using of to treat a osteoporosis,cardio,psoriasis,infertility,good sleep.
Research & Development

BIOSTIMUL search for new treatments spans several research projects across multiple therapeutic areas to discover new ways of treating illness and disease, and deliver a steady stream of innovative new products that enhance human health.